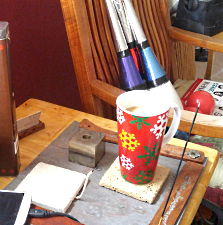 This week there are several articles on Foxconn based on statements from Foxconn Chief Executive Terry Gou. Here is some of what he said.
"In terms of TV, we have no place in the U.S., We can`t compete."

"If a certain size of display has more supply, whether from China or Japan or Taiwan, we have to change, too."

"In Wisconsin we're not building a factory. You can't use a factory to view our Wisconsin investment,"

That said Woo did outline a plan. Foxconn wants to create a "technology hub" in Wisconsin that would largely consist of research facilities along with packaging and assembly operations. Foxconn will also produce specialized tech products for industrial, healthcare, and professional applications.
For the record this is math -- NOT POLITICS.

Foxconn by the numbers. China`s median monthly wages (Shanghai - $1,135, Beijing - $983 and Shenzen - $938) have increased exponentially over the past few years and like Japan and South Korea may eventually catch up with the median labor wages in the US -- but not yet or any time soon. The US is still paying three to five times as much for equivalent labor. Even though the Chinese market is as tight or even tighter than ours for skilled labor, there are still workers available for a good job and the newer Foxconn jobs and workplaces have also improved exponentially. Foxconn has also found another strong and inexpensive labor force in Mexico and their new plans are to manufacture product in China and assemble in Mexico for sale in the US. My favorite website for a quick look at all the numbers is found at https://www.worlddata.info/average-income.php.
The second aspect of the equation is the price and margins on higher end screen technology. From 10 years ago to today screen prices have gone from $6.60 per square inch to less that a dollar today. There was a thought recently that this was going to level off and 4K and 8K would enter the market with higher prices and new demand -- that did not happen. In fact we are even seeing better units at lower prices for Supper Bowl Sunday compared to Black Friday -- a span of just three months.
Thus Foxconn is caught in a numbers game and a huge facility to build screen technology in the US does not make economic sense. I am not paid millions of dollars to run a company and am doing much of the math in my head, but I can tell you this -- it is not about incentives, this is not about a new Governor, this is not about tariffs, taxes, or twitter. This is about making money and if China has learned anything in the last 20 years I promise making money is at the top of the list.
Foxconn has also quickly identified new markets with great margins requiring the new tech designs their "hub" will produce. The industrial, healthcare, and professional markets will require new product at much higher prices and profit margins. Foxconn is a very smart company and in the end Wisconsin will still benefit from whatever they choose to do in the State. We should actually applaud Foxcon for not hiring 100 employees last year and billing us for nine million plus. They did the right thing and we need to continue to work with them...
...more